Restoration of ENT Hospital, Mumbai
Adaptive Reuse | Reinstatement | Restoration of Heritage Character
Location – Fort, Mumbai | Client – Municipal Corporation of Greater Mumbai (MCGM)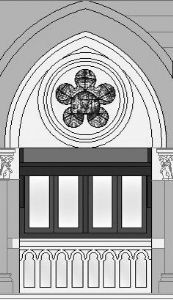 Built in Gothic and Neo-classical styles of Architecture, this heritage structure, dated 1904, was originally built for The City Improvement Trust Board which was then converted into an E.N.T hospital renamed as Atmasing Jessasing Bankebihari ENT Municipal Hospital. The architect of this Grade II heritage structure was Sir Charles Frederick Stevens.
It is a Ground + II load bearing Ashlar Masonry structure which predominantly comprises of Malad, Porbunder and Kurla stones. The building roof is a mix of flat slab RCC Terrace and Mangalore tiled timber sloping roofs. The hall mark of the building was the North West tower which was missing. The Northern and Western façade shows typical Gothic Motifs used in the form of arches, windows, finial, porch and stained glass and pilasters.
The restoration work of the structure is divided in two phases –
Phase I mainly included complete repairs of slopping Mangalore tiled timber roof restoration, necessary external repairs along with restoration & revitalization of interiors of only second floor.
Phase II includes total civil repairs in interiors and exteriors, reconstruction of north-west and south-west towers, repairs of stained glass windows, wooden doors and windows, renewal of electrical installations and other service works important for the functioning of the hospital such as lifts, HVAC, medical gas system, etc.
The missing tower on the north-west corner of the building formed an integral part of the South Bombay skyline, hence it was crucial in re-instating the lost heritage value. In the current scenario, using original materials was not ideal due to structural constraints. Structural steel framework and lightweight Glass reinforced concrete (GRC) have been used to recreate the tower.
This unique heritage conservation project can be summed up in Five R's namely Repairs, Rehabilitation, Renovation, Retrofit and Reinstatement.