Nana Phadnis Wada: Restoration & Heritage Management
Tangible & Intangible Heritage | Restoration I Revitalization | Heritage of Maharashtra | Wada Architecture
Location – Menavli, Wai | Client – Varasa Culture Management Private Limited, Pune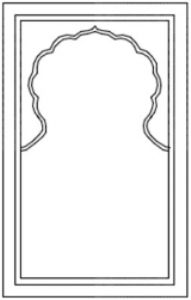 The wada is associated with the renowned historic personality namely Nana Phadnis who was a prominent administrator and statesman during the Peshwa Period. Built in the mid-18th century, this serene setting with the Wada and Temples along the banks of Krishna River creates a very unique location.
The Edifice showcases all the typical elements of Wada Typology of Maratha Architecture. The wada enclosure built as a fortress showcases typical Maratha Architectural elements namely Fortification Walls, Bastions (Buruj), Gomukhi Pattern entrance, Nagarkhana, Chowks (courtyards) and Devdi. The spaces have strong associational values with interesting colloquial names such as Haldi Kunkvacha Chowk (courtyard space for religious and cultural activities), Menavli Daftar (an important Maratha History archives), Rangachi Kholi (space showcasing Maratha wall paintings).
The wada boosts of excellent specimens of Maratha Wall Painting showcasing the legacy of Maratha School of Art, well-carved decorative wooden ceilings (Takhtaposhi), and decorative pillars (Suridar Khamb) with cusped arches (Kaman) that are adorned with flora & fauna motifs.
Heritage Conservation of Menavli Wada was not only limited to the built restoration but it involved revival of the cultural heritage associated with it.
The first phase of restoration carried out in the year 2009 mainly concentrated on restoring the historic façade overlooking the Haldi Kunkvacha Chowk. This offbeat kind of restoration effort helped to salvage a historic façade comprising of wooden windows and showcasing intricate Maratha wall paintings pulled down from another demolished Wada structure in Wai and creatively used in the restoration of the façade in Menavli Wada. Restoration of the decorative wooden ceiling, doors, windows and lime stucco work in major areas was undertaken in this initial phase.
The ongoing second phase of restoration initiated in the year 2019 concentrates on revitalization of major spaces namely Haldi Kunkvacha chowk, Dindi Darwaza Chowk, Devdi and stage wise implementation of the Heritage Management Plan to convert this enduring legacy into a prominent heritage destination in Maharashtra.
Menavli Wada has also been used to promote Heritage Conservation by conducting hands on Heritage Workshops & Walks.